This is paint with me video, in which I show you the process of my first time trying acrylic painting. In this video, I will use my new Windsor and newton acrylic collection, which were featured in my previous unboxing haul video, to paint a simple and loose landscape.
The whole process is quite intuitive, which is simply me looking at colors and value and painting accordingly. I was struggling with mixing colors as well as applying paints onto the papers, as this is a new medium I have never experienced before. In the end, I'm happy that I gave it a try, and from there it gives me an idea of where I should focus next in my acrylic learning journey. I'm planning to have another video of me practicing mixing acrylic paints, so stay tuned for that.
At the same time, I will continue to post watercolor tutorials videos every week, subscribe to my channel, and click the notification bell so you will be notified whenever I upload new videos. Hope you enjoy this and happy painting!
Click SUBSCRIBE to my channel to see more.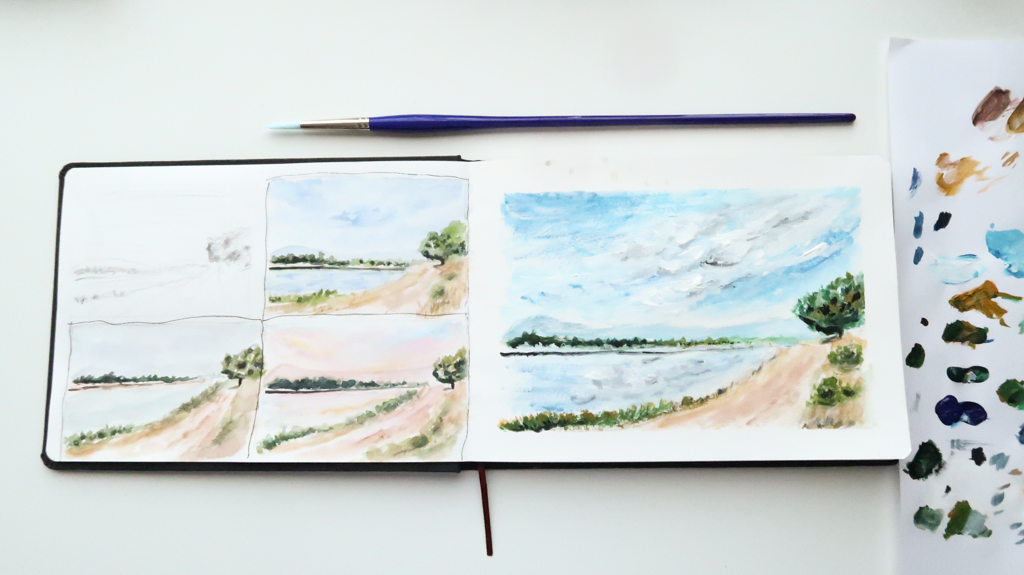 Supplies mentioned
DISCLAIMER: Links included in this description may be affiliate links. If you purchase a product with the links that I provide, I may receive a small commission. However, there is no additional charge to you. I appreciate your support.
BLICK : is an art supply retail business, with stores across the US.
Hahnemuhle watercolor sketchbook: https://www.dickblick.com/products/hahnemuhle-watercolor-books/
Windsor and Newton acrylic paint set: https://www.dickblick.com/products/winsor-newton-galeria-acrylics/
Blickrylic Gesso: https://www.dickblick.com/products/blickrylic-gesso/
Blick Brush set: https://www.dickblick.com/products/blick-scholastic-wonder-white-brushes/
Amazon:
Hahnemuhle watercolor sketchbook: https://amzn.to/2VaHbR6
Windsor and Newton acrylic set: https://amzn.to/3eTL2J4
Music I used: https://www.epidemicsound.com/referral/fkmtrn/ ( referral link )