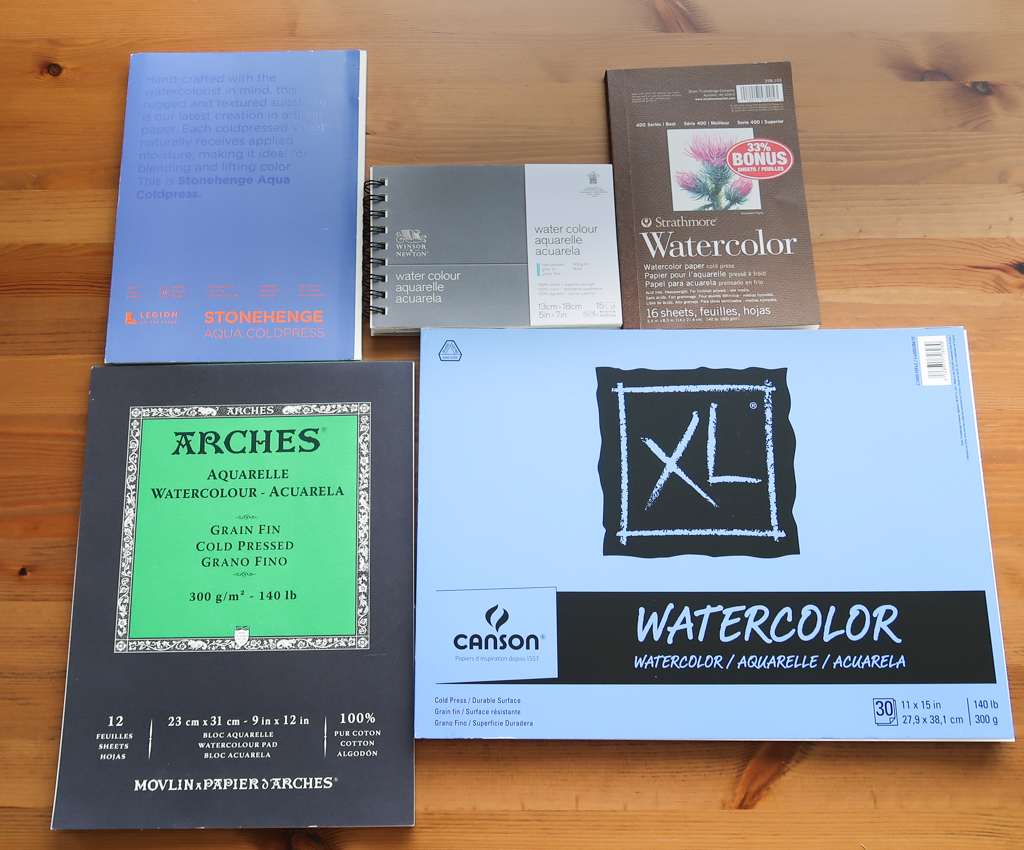 When it comes to watercolor, the quality of paper is the most important factor. Therefore, this blog will be dedicated to all things paper. As a self-taught watercolorist, these are all the knowledge that I've collected over time, and also my opinions based on what I've experienced with different watercolor papers.
1. What is watercolor paper? Can I just use any paper instead?
I really wish I could say yes, and life would be much easier if we could just use any paper. Unfortunately, it's named specifically "watercolor paper" for a reason. Watercolor is such a special, unique, and pretty medium. We have to use water to activate the colors. Plus, it depends on what kind of subject, or effect you want to create in your painting, the amount of water will be adjusted accordingly.
Nonetheless, water is the key, and the paper will need to be made from a certain material in order to hold the amount of water you apply on it.  Regular paper is not designed to be used with water. If you put a wash of watercolor on your typical notebook paper, there is a chance the paper will buckle quickly and the color is not absorbed nicely. Overall, it will affect your final result, and it's hard to apply different watercolor techniques (which are the greatest things that make watercolor special and unique).
2. 100% cotton watercolor paper vs regular watercolor paper
 Generally, watercolor papers are made from one of two materials: cotton or wood pulp.
Cotton paper ( artist-grade)
Cotton offers incomparable stability and ensures that your work will stand the test of time. Therefore, 100% cotton papers are high quality, and are considered to give the very best painting surface. They are the favorite choice of professional artists.
It is often said that watercolor causes frustration because it's unpredictable. From my experience, I think part of it is true. However, if I could just give one advice to ease the trouble, I'd say to invest in good quality watercolor paper. Among all the supplies, papers make the most difference in your painting.  Cotton papers are on the high-end price, but they're all worth it.
All of my works available in my shop are done on 100% cotton watercolor paper to give my arts the most vibrant look, and to ensure that my customers will have the best quality artworks in their home.
Wood pulp paper ( student-grade)
Wood pulp paper (also known as student-grade paper) is made using a chemically treated pulp with lignin removed.  It is an affordable alternative to cotton paper.  It is a great option for beginner watercolor artist, or someone who may just do watercolor as a hobby. Canson and Strathmore are my two favourite brands to go for student-grade watercolor paper. I've been using Canson XL since the beginning, and up to this day I still use this paper to practice, do some sketches, or swatch colors.  In my opinion, student-grade paper works just fine without causing you breaking the bank, especially when you first started.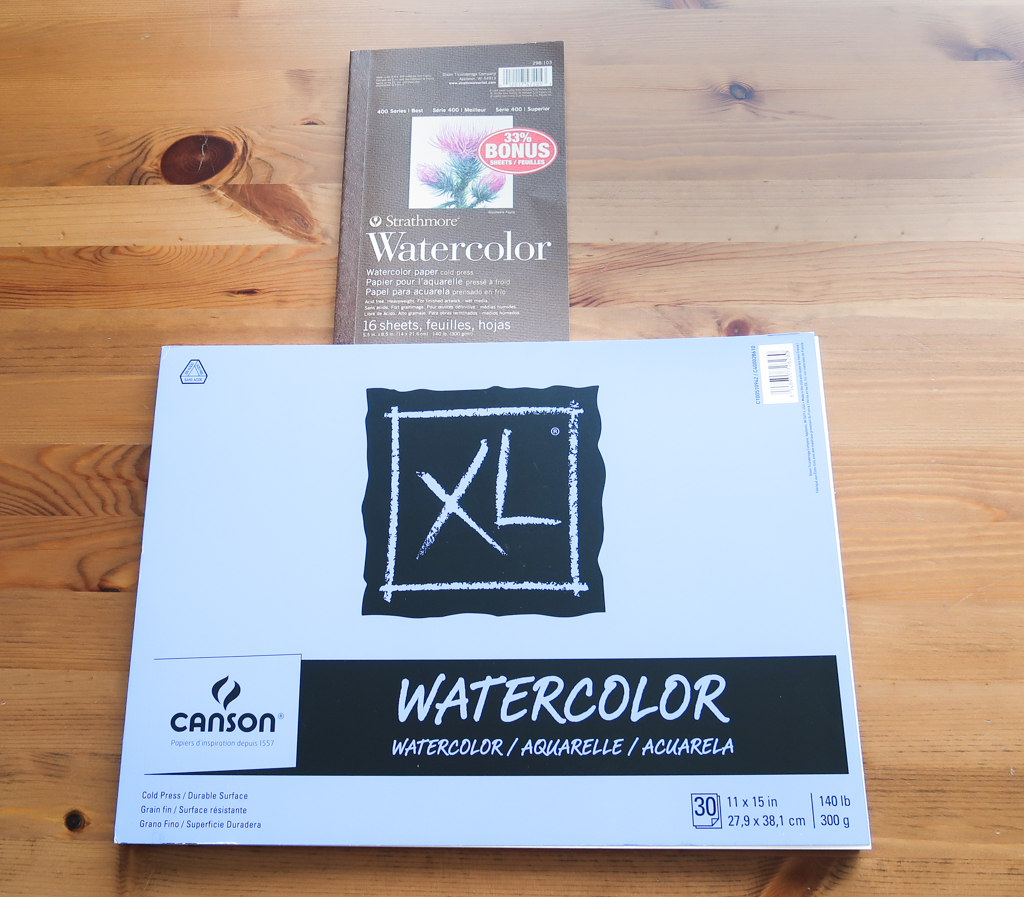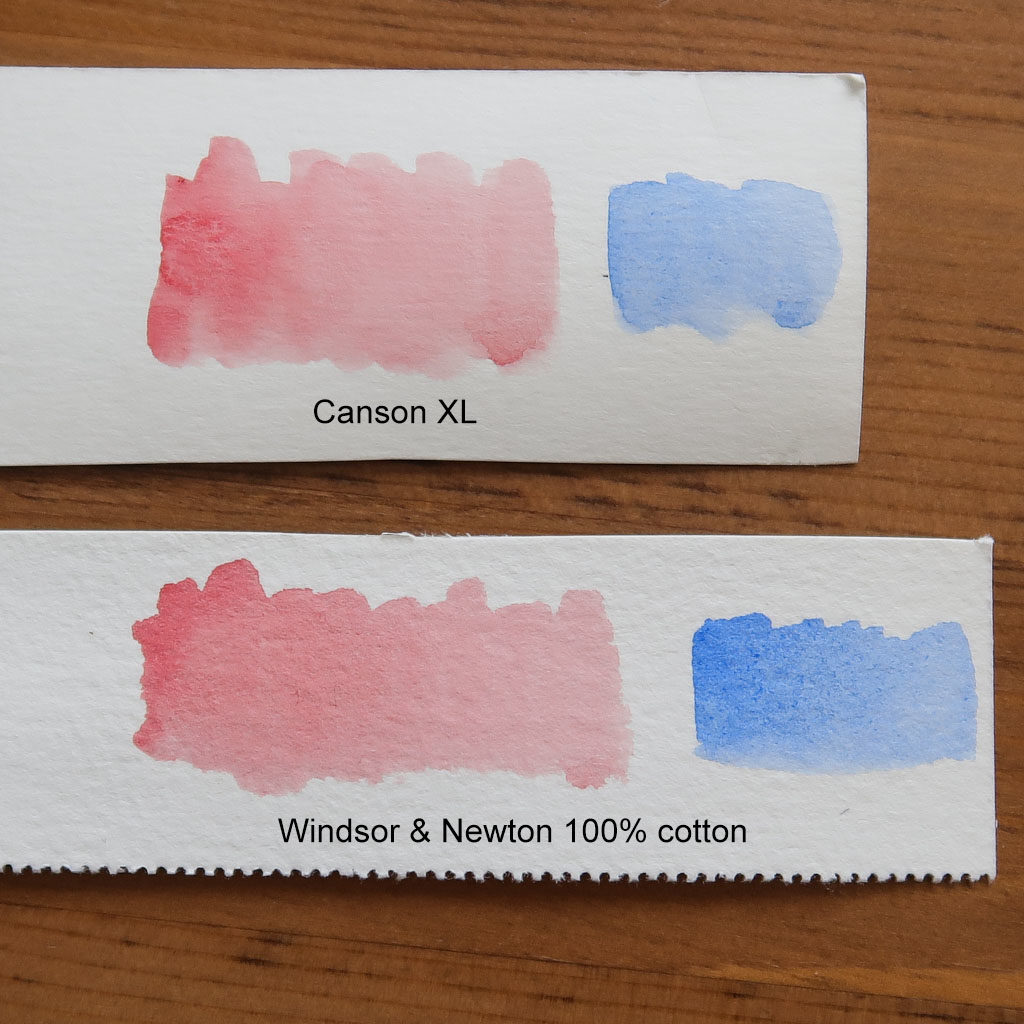 Examples of how watercolor looks like when you apply it on student-grade paper vs 100% cotton paper
You can notice the difference; watercolor on 100% cotton will be absorbed nicely, creating an even and vibrant wash. On Canson XL, the color tends to float on the surface, creating watermarks and the color is also less vibrant compare to the one on Windsor & Newton.
3. Cold press vs Hot press
Generally, cold or hot press is the term to refer what type of watercolor paper surface.
Cold press paper has a slightly textured surface.  It is the paper used most often by watercolor artist, especially for landscapes. Because of the bumpy surface, cold-press allows you to create textures in your paintings, and apply different techniques in watercolor (such as dry brush, etc.. )  
Hot press, in the contrast, has a smooth surface and is quite similar to mixed media or drawing paper. It is more suited to fine details, or illustration works that will later be digitized for prints.
I personally only use cold-press for all of the paintings. The paper creates a beautiful texture for my landscape and works nicely for my floral paintings. I love my cold-press paper but definitely would love to try hot pres paper one day.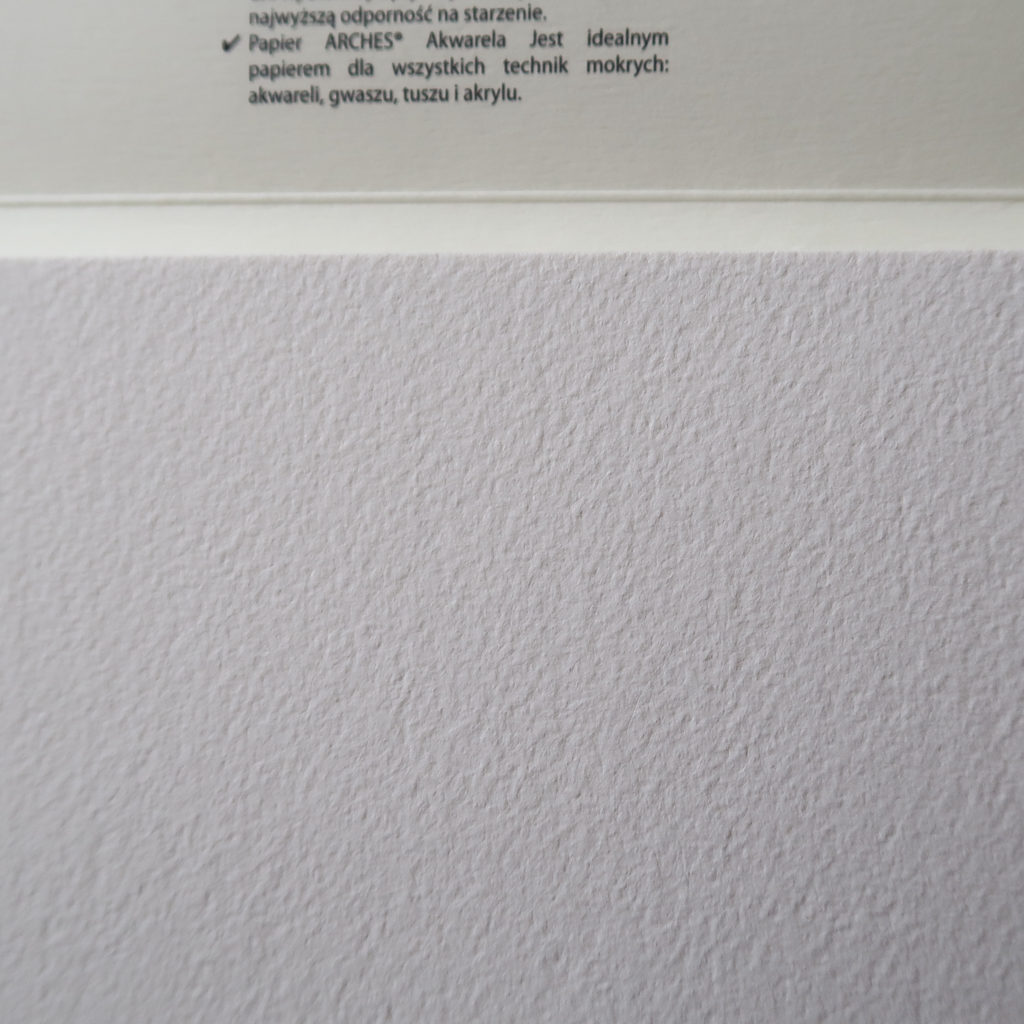 Here is arches cold-press, the paper surface is rough. It's considered a big advantage to create texture in landscape paintings. A lot of artists love this. If landscape is your favorite subject to paint, cold-press paper is a good option to keep in mind.
4. Weight
Basically, the heavier the paper, the more it weights and the more water it will take without buckling.
The two popular paper weights are 140lb and 300lb.
140lb is the most commonly used paper by watercolorist. The thickness is decent to handle quite a bit of water and scrubbing.
300lb is the strongest and heaviest paper. It will dry flat without buckling and can take quite a bit of abuse.  The cost is higher than 140lb paper.
Unless your artwork is especially extreme in water as well as techniques, I think 140lb is good enough for most artworks.
CONCLUSION
I hope that the information provided will be helpful for you. Once you equip yourself with knowledge, you will make a better and wiser choice when it comes to shopping for watercolor supplies.  You can save money on things that do not serve you right, because we all know art supplies are costly.  
Last but not least, happy painting!
 DISCLAIMER: Links included in this description may be affiliate links. If you purchase a product with the links that I provide, I may receive a small commission. However, there is no additional charge for you. I appreciate your support.
For 100% cotton cold-press/ 140 lb watercolor paper:
Arches Watercolor Paper Pad: https://amzn.to/3uLLhLK  
Legion Stonehenge Aqua Watercolor Block: https://amzn.to/3uQrHOv  
Bee Paper Company Bee Creative Watercolor Sheets: https://amzn.to/3seTxCB  ( more affordable )
Bee Paper Watercolor Journal: https://amzn.to/2ONmO9A
For student-grade watercolor paper ( cold press; not 100% cotton )
Canson  XL paper pad 11 x 15 Inch, 30 Sheets : https://amzn.to/3mKHV9e
Strathmore Watercolor Pad, 5.5″x8.5″, 12 Sheets: https://amzn.to/2Rx7lLT
Other options for art supplies: