I've recently purchased this Himi gouache set from Amazone for about 24 USD. You will get 18 colors in small cups ( see images below ). I think the price is affordable for a student-grade gouache and a good option for beginners who wants to do lots of practice with this medium.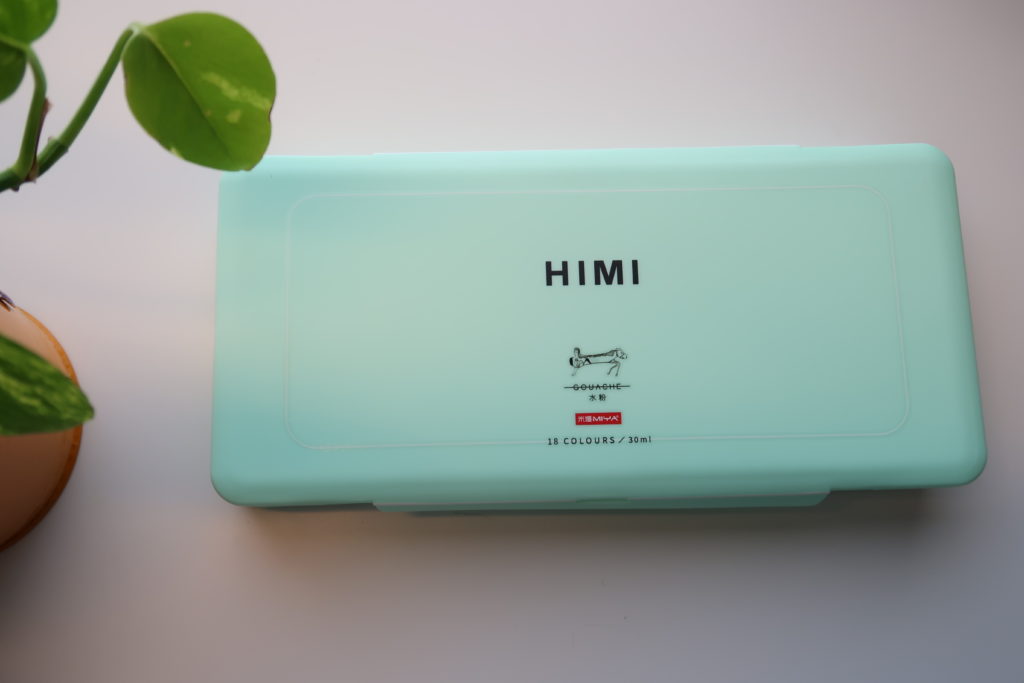 I chose the pastel green case since this is my favorite color. There are 3 options for case color which you can choose when you purchase: green ( like mine), pink and blue. When you open the case, there is a detachable plastic tray, which you can use as a mixing palette. I personally prefer to use my ceramic palette to mix the colors. However, I think a plastic tray that comes with the case is very convenient when you want to carry the palette along and paint outdoor.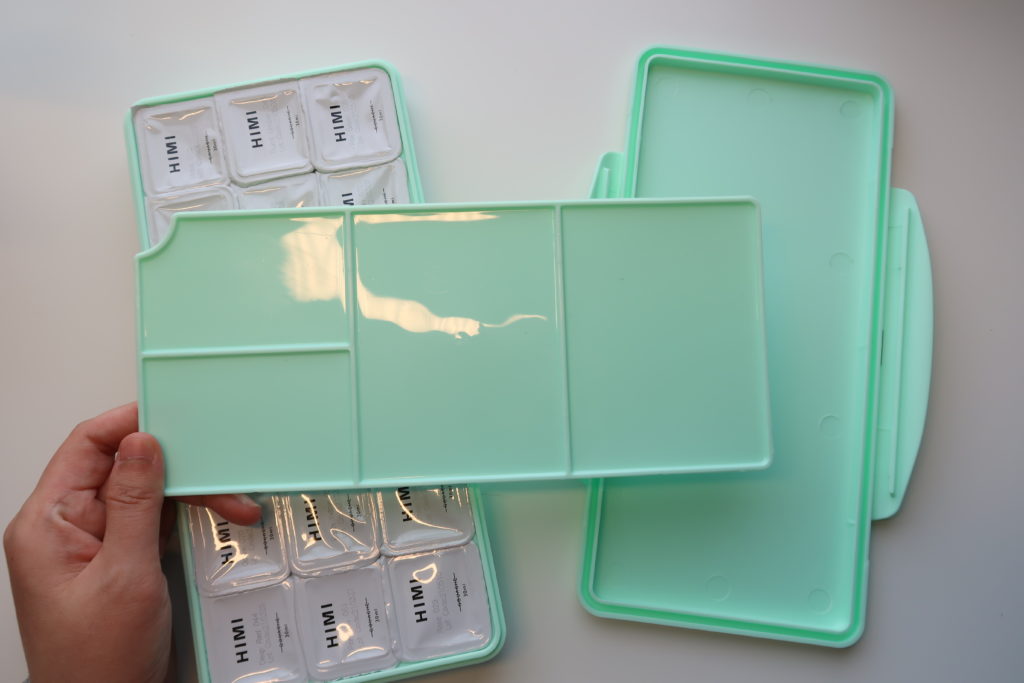 There are 18 colors in small cups with the lids sealed when you first open them. You will need to remove all the lids in order to use the paints, which I find the process a bit messy ( see my video). The color's names are written on the lids for your reference. 18 colors are more than enough for beginners, and I'm sure you can mix and get even more colors out of these 18 colors. I also want to mention that they also have the 24 color set if you're interested in more colors.
It's also worth mentioning that these gouache cups do have a bit of scent in them, so if you're allergic to any sort of scent, then definitely take this into consideration before making a purchase.
As you can see in my color swatch chart, the colors look opaque and vibrant on paper. I also tried using these paints to recreate a painting of Claude Monet in my Strathmore mix media sketchbook. My first impression: this set is good, the fact that they are in cups which you don't have to squeeze out of the tubes is such a huge advantage, you just need to pick up the paint and start painting and save time. I will need to experience this set more to know if I actually like it or not, but overall I'm happy with this purchase :).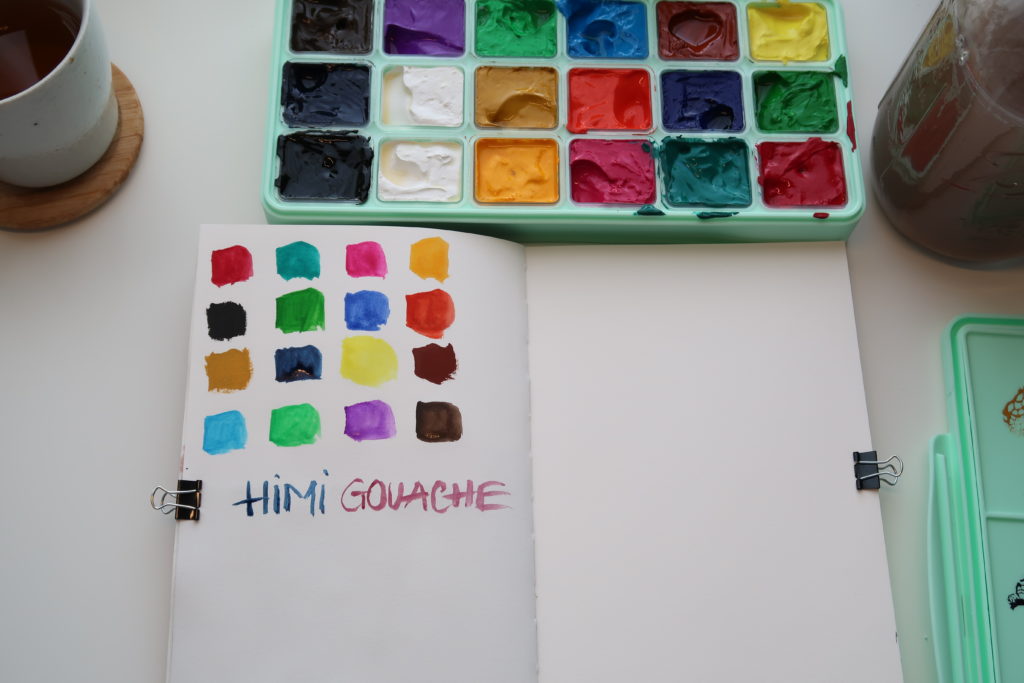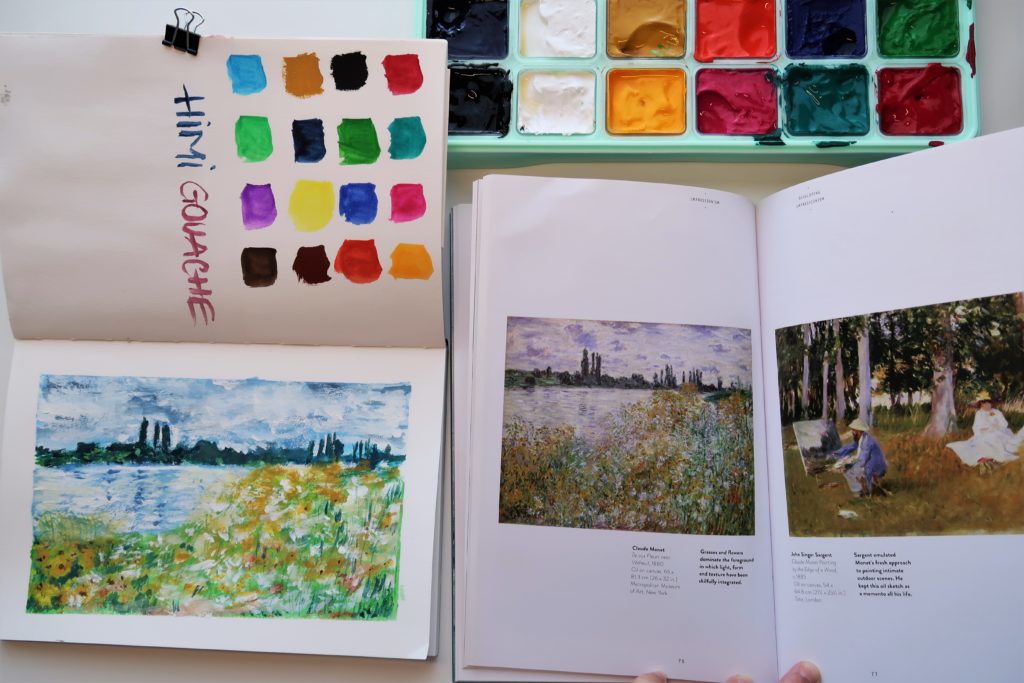 If you're interested in the sketchbook for gouache, I'm using Strathmore soft cover mix media ( linked below). It's 100% cotton paper, but it's only 90 lb so expect it to be thinner compared to typical watercolor paper. I find it works well with gouache and is cheaper than watercolor paper.
Supplies mentioned :
Himi gouache 18 color paint set: https://amzn.to/3smYBrR
Princeton velvet touch long round size 8: https://amzn.to/3LwI240
Strathmore mix medial sketchbook: https://amzn.to/3pk2VGm
Impressionism art book by Ralph Skea: https://amzn.to/3spoIOW
DISCLAIMER: Links included in this description may be affiliate links. If you purchase a product with the links that I provide, I may receive a small commission, and it can support me in making free content. However, there is no additional charge to you. I appreciate your support.