Mother's day is coming soon. How about a DIY watercolor card that takes you only 15 minutes to do? Imagine how happy and proud mom is if she receives the card handmade by you?
Today, I'm going to share with you how to paint a flower bouquet for mother's day card in just 15 minutes.
Supply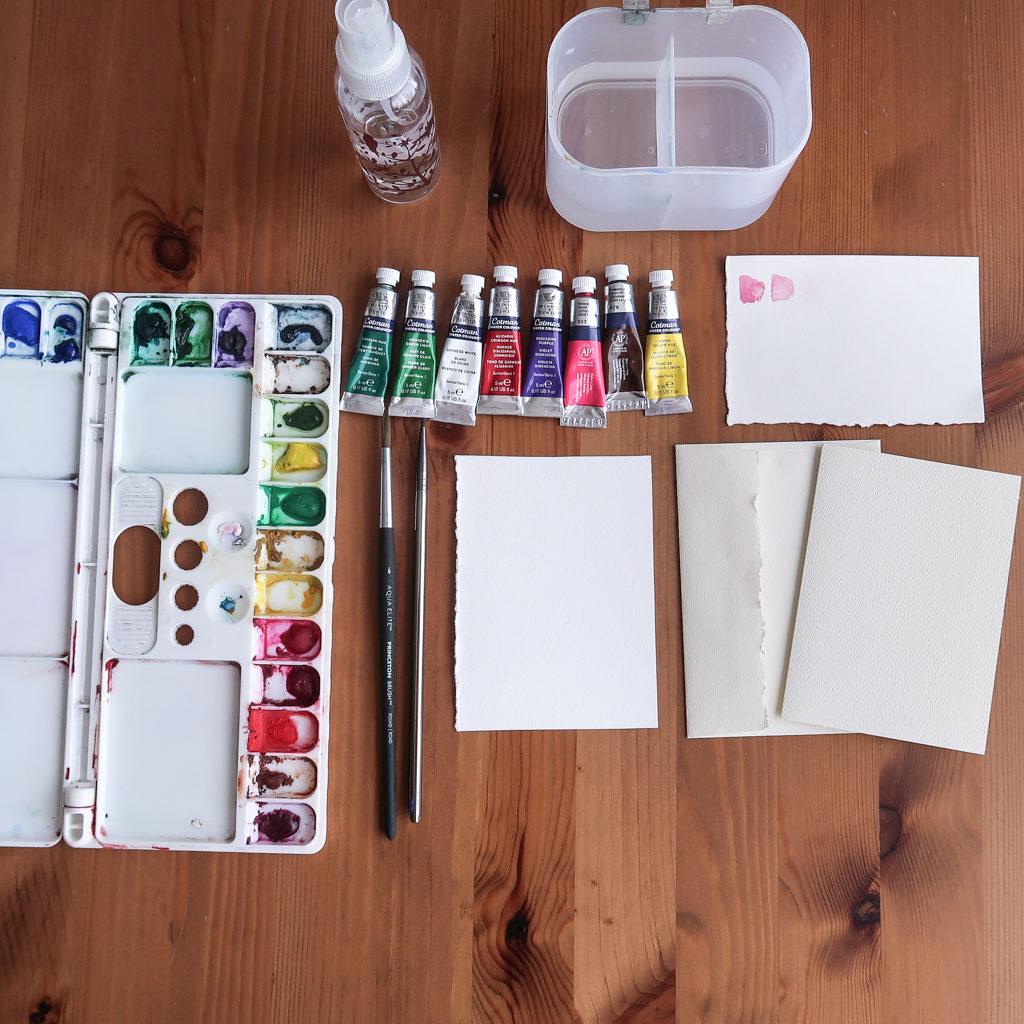 Here is the list of supply I'm using for this project:
Cotman by Windsor and Newton paints
Watercolor palette
Princeton Aqua Elite round no.6
Bee 100% cotton paper for the painting ( and Canson XL for practicing and color swatching )
Strathmore blank greeting card with envelope, deckle edges
Two cups of clean water to wet and clean the brushes
I also use another cheap brush to mix colors on the palette.
You can find links for all the product at the end of this post.
Step 1: Color mixing and practicing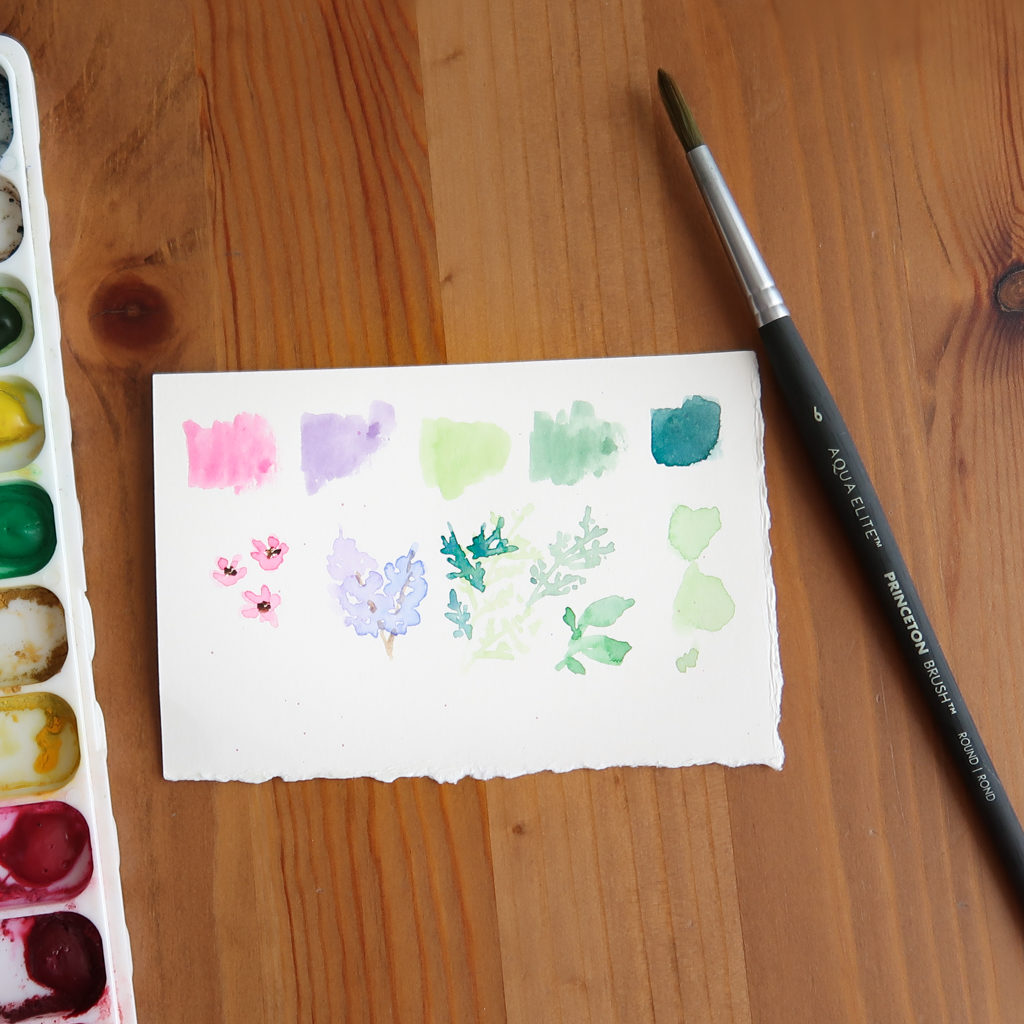 When it comes to watercolor, choosing and mixing colors for your painting is essential and helpful. I personally think colors play a big role in a successful painting. When you choose the right colors that go well and compliment each other, you got a pleasant-looking and attractive painting that will catch people's attention. There is so much to learn about colors that I will save them for another post.
I use Canson XL to swatch the colors I'm going to use. I love mixing colors so that I can get colors that speak for my style. Plus mixing is such a fun warm-up activity to do. However, if you want to use colors straight out of tubes without mixing, by all means, do it. As an artist, you have artistic license to do whatever feels right for you.
My color palette will include 5 colors. Pink and lavender are for flowers, the 3 greens will be for leaves and branches, I highly recommend having different colors going from light to dark value. The purpose is to add depth and create more variety for your painting.
Next is to practice the type of flowers and leaves you want to have in your bouquet. Keep it simple, and focus on brush strokes. We're doing a super loose style bouquet, and not aiming for realism looking. With loose flowers, they're all made from brush strokes. Here I have 2 types of flowers, one is the pinkish wildflowers, the other is lavender. With leaves, I also have 2 types of leaves to create variety and contrast.
When you're done with mixing and practicing, keep the paper next to you so you can refer to it while painting. Now I believe you are ready for the final project, let's get started !
Step 2: Painting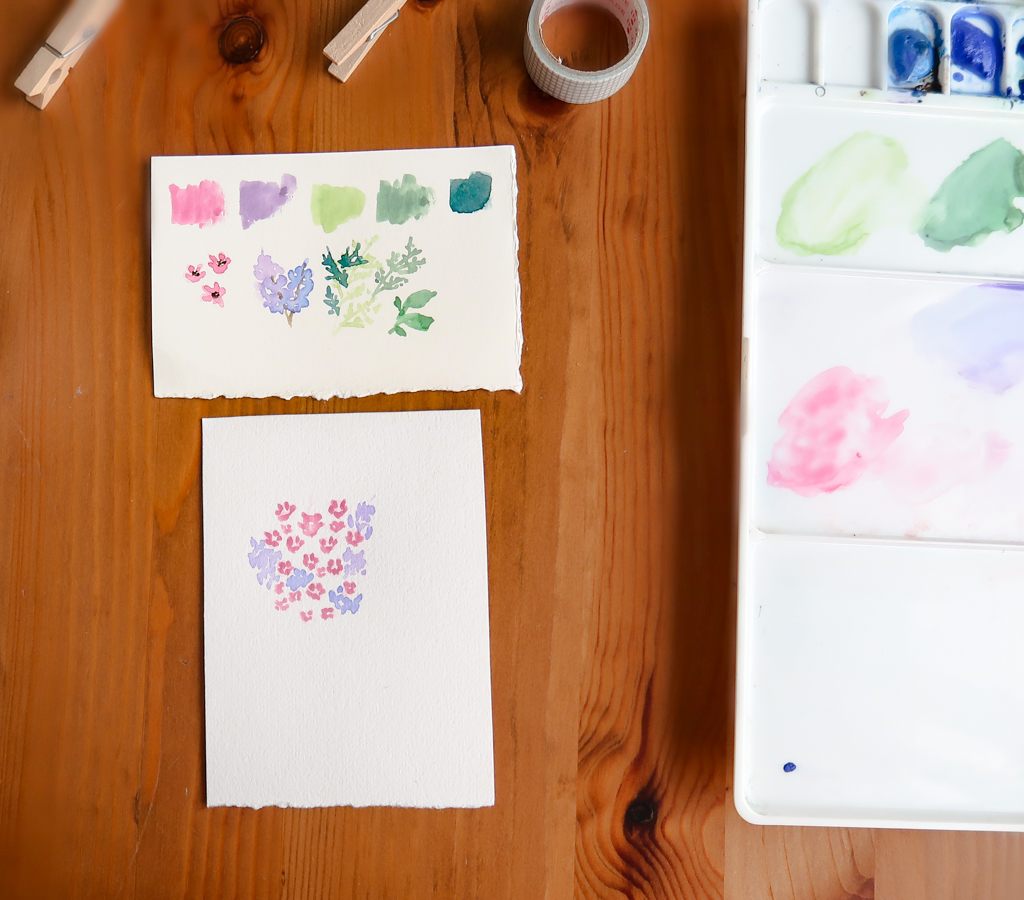 I started painting all the flowers in the center, and from there I will add leaves and branches around them. It can be a bit tricky to paint a bouquet since you have to think about composition, where to put what. One thing you can do is to go online and search for photos of real bouquets to see how they are arranged and apply to your painting. The other thing is not to worry too much about this, just start painting and trust your instinct. The more you do it, the better you become. Watercolor is all about having fun, relaxing, making a mess, and enjoying the process.
Step 3: Final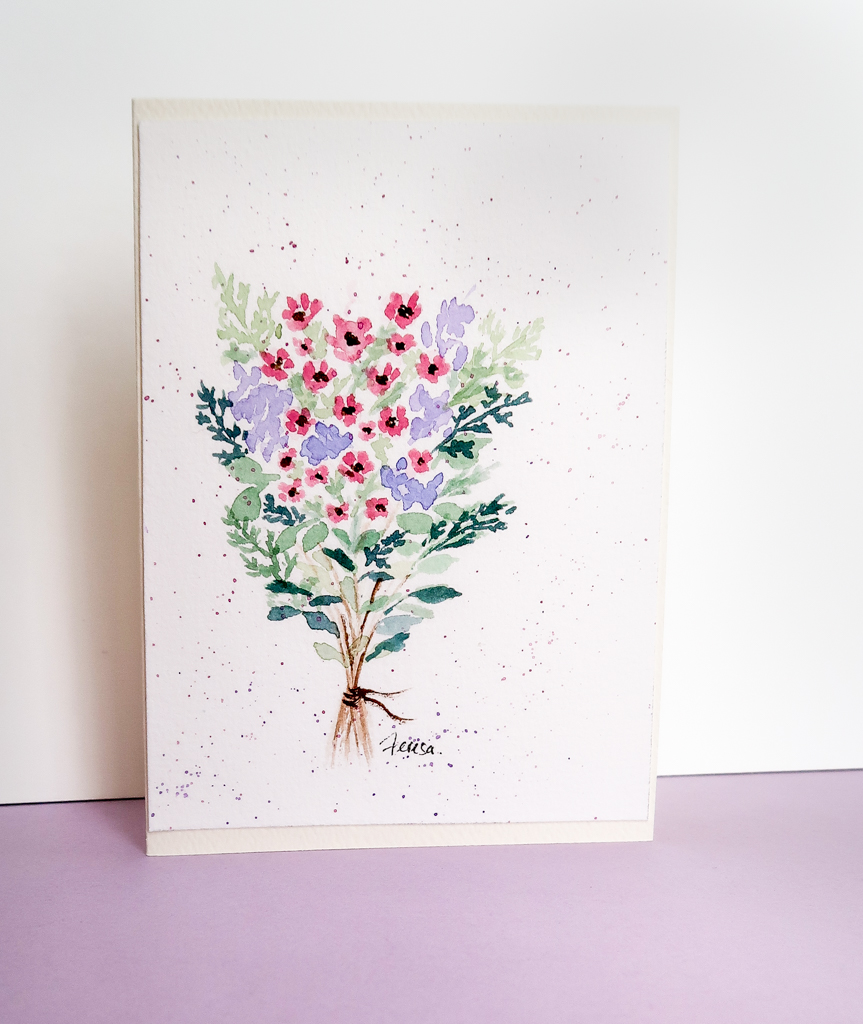 When you finish your painting, glue it on the front page of a greeting card. I order a box of Strathmore blank greeting cards, which includes 10 of them. Each card has a deckle edge and comes with a matching envelope. You can also use cardstock as well. On the painting, you can write any message you want. And there you go, you have a lovely unique greeting card that was handmade by you. This card is easy, simple, and quick to do, so you can do a ton of them using different colors, and save them for any occasion..
If you decide to give it a try, I'd love to see it, feel free to tag me on Instagram @teresab_art
Thank you for stopping by, and happy painting !
DISCLAIMER: Links included in this description may be affiliate links. If you purchase a product with the links that I provide, I may receive a small commission. However, there is no additional charge to you. I appreciate your support.
Bee Paper 100% cotton coldpress: https://amzn.to/3tFDm2L
Winsor & Newton Cotman Water Colour Paint, Set of 12, 8ml Tubes: https://amzn.to/32C2LOQ
Canson XL: https://amzn.to/3sCeCqB
Strathmore blank cards : https://amzn.to/3arlAZ9
Princeton Aqua Elite, round size 6: https://amzn.to/2Qe67Fh
Other art supply option in the US: