Papers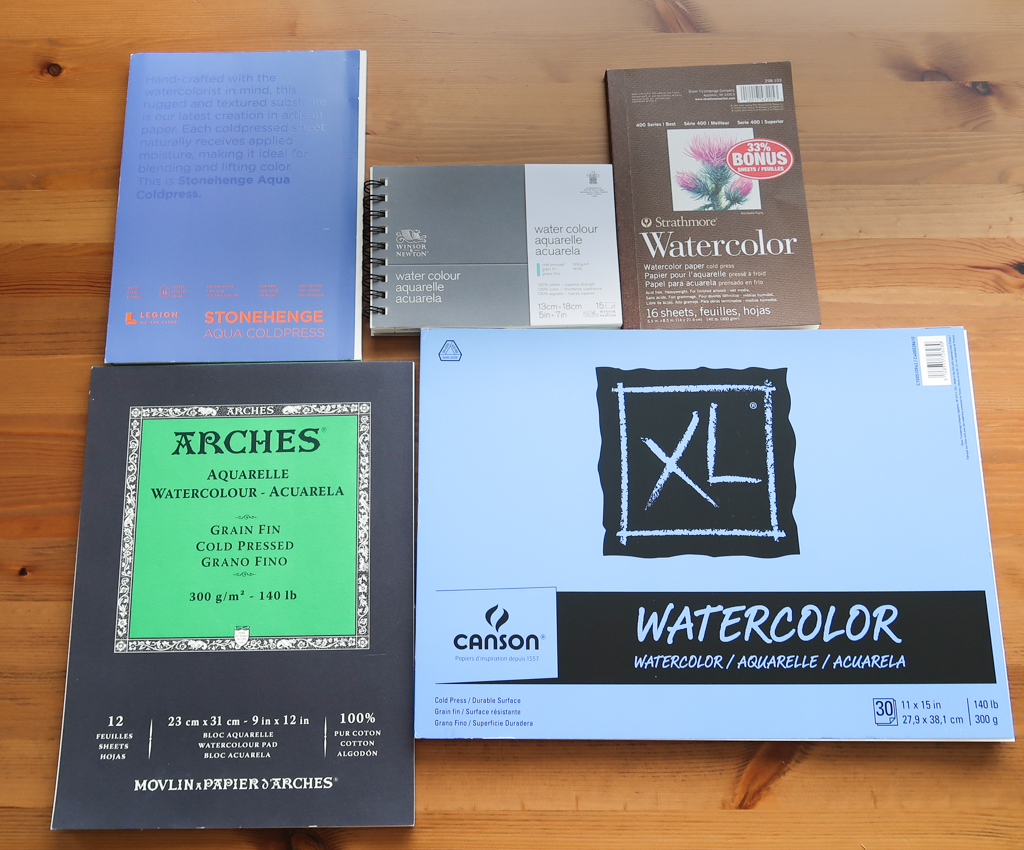 There are 2 types of watercolor paper: student grade vs artist grade
Student-grade is for beginners or anyone who just wants to do watercolor as a hobby. It is affordable and good enough for practicing. However, consider the fact that it is not made from 100% cotton, so you may find challenges when it comes to applying different techniques in watercolor painting. Well-known brands for student grade are Canson XL or Strathmore.
Artist-grade: high quality, 100% cotton, expensive, and widely used by professional artists. Well-known brands are Arches ( one of the best in the market ), Legion, Bee ( quite affordable ), and more… Keep in mind that if you have a certain budget for supplies, I highly recommend spending more on high-quality papers, because paper makes a huge difference.
Cold press vs Hotpress: Coldpress has a textured surface, and hot press has a smooth one. I personally prefer cold-press as they absorb the colors well and great for creating texture in landscape paintings.
Brushes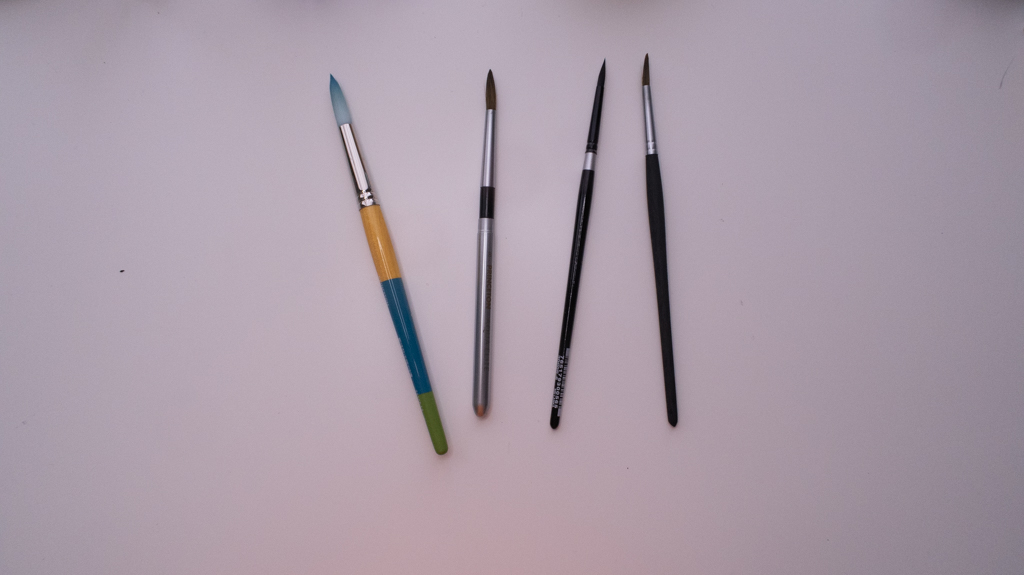 As a beginner, you only need 2 or 3 brushes to start with.
Round brushes are the most popular and widely used for paintings.
Have a big size like 12, and medium size either 8 or 6, and may be a liner size 2 if you want to do some sort of detail works.
I highly recommend you to spend money on high quality brushes, don't get those at dollar store. Princeton is a well-known brand for good watercolor brushes, and they offer a wide range of sizes, shapes and prices.
Make sure to take a good care of your brushes so that they can last long, and you don't have to spend $$$ to replace them too often.
Paints
There are also 2 types of paints: student grade ( beginners, affordable ) and artist-grade ( high quality, professional, and pricey )
As a beginner, student-grade paints will serve you well. Cotman by Windsor and Newton is a popular student-grade paint that not only is for beginners but also well-loved by many professional artists.
There are also many brands that offer good quality student grade paints, make sure to do some research to find the one you like.
You can buy paints in tubes separately, which means you can buy only the colors you like and don't have to buy them in collection.
Don't spend too much money on paints.
Lean a bit about color theory, color mixing, and practice painting with a limited palette. Not only it's a good way to improve your art skill, but also save you a lot of money on paints.
Others stuff that are free and you can find them in your kitchen
2 cups of clean water ( cups, jars that are not often used in your kitchen )
kitchen cloth or kitchen towel to plot your brushes
masking tape ( optional ) to have clean edges
grab any plates ( plastic or ceramic ) in your kitchen to be your color mixing palette
DISCLAIMER: Links included in this description may be affiliate links. If you purchase a product with the links that I provide, I may receive a small commission. However, there is no additional charge to you. I appreciate your support.
Bee Paper 100% cotton coldpress: https://amzn.to/3tFDm2L
Winsor & Newton Cotman Water Colour Paint, Set of 12, 8ml Tubes: https://amzn.to/32C2LOQ
Arches 100% cotton coldpress: https://amzn.to/3bHLqsx
Stonehenge legion coldpress 100% cotton: https://amzn.to/3fAAVIF
Canson XL: https://amzn.to/3sCeCqB
Princeton Aqua Elite, round size 6: https://amzn.to/2Qe67Fh
Princeton Snap round 12: https://amzn.to/3f3vuD1
Silver black velvet 6: https://amzn.to/2QHj3DO
Other art supply option in the US: